With iOS 8, Apple introduced a row of contact shortcuts at the top of the multitasking screen (tap twice on Home to get to it). If you want to take more control over which faces you see here, or you want to shut off the feature altogether, these are the settings you need to tweak.
There are four options to choose from: Recent contacts, favorite contacts, both, or neither. If you want to be specific about the people you see on the multitasking screen then you're going to need to hide recent contacts, show favorite contacts, and spend some time starring the most important people in your contacts list.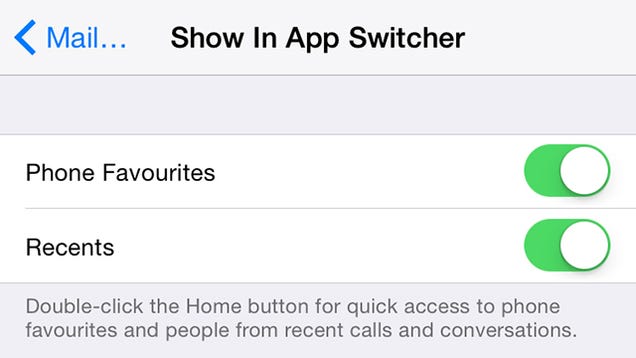 Open Settings then head to Mail, Contacts, Calendars. Under the Contacts heading tapShow In App Switcher to reach the relevant toggle switches. Turn off both of these options and you won't see any of your contacts on screen when you're switching between apps.
Setting your Phone Favorites is very straightforward: Tap through to an individual card in the Contacts app then choose Add to Favorites. Alternatively, tap the Favorites button in the Phone app, then use the plus icon (top right) to look for contacts you want to add in.